A diet filled with too many unhealthy, processed foods makes it hard for our bodies and our minds to function properly. It is no secret that what we eat has in impact not only on our physical body but also on our cognitive functioning.
The body of knowledge around nutrition and what to eat feels like a rollercoaster with new information, new trends and fads emerging with each new season. It can feel overwhelming to try and dissect what a true and real when it comes to food and the value of food on our body and our mind.
Hey Happy wants to make this easier for you. We want to provide you with reliable information to digest, learn from and easily incorporate into your daily life. So, let's focus our attention on Omega 3 in this article to learn how it related to your mood.
According to Harvard School of public health our bodies can produce almost all the fatty acids we need except for omega-3 and omega-6 fatty acids. Our bodies need to get Omega-3 from food. Omega-3 fatty acid is not only good for our bodies cardiovascular system, but also for our bodies pulmonary system, our immune system, our central nervous system, and our endocrine system. Thus Omega-3 fatty acids interacts with a variety of physiological processes.
In our central nervous system omega-3 fatty acids helps set, attune, and regulate cell signalling. Thus, how our cells respond to the changing environmental condition in our bodies. This significantly affects our dopamine and serotonin pathways which are implicated in mood regulation. Omega-3 fatty acids also interacts with the inflammatory responses of neurotransmitters. Thus Omega-3 fatty acids is important for regulating the neurotransmitters that affects our mood.
A recent scientific study published in 2022 by Nutrients investigated the consumption of Omega-3 in the maintenance and incidence of depressive episodes. The study found that Omega-3 may have a protective affect against the maintenance and incidence of depressive episodes. They found that in relation to incidence of depressive episodes, the higher the consumption of omega-3 acids, the lower the risk of developing depressive episodes. They also reported that previous research concluded a healthier diet that contains specific nutrients such as Omega-3 fatty acids can contribute positively to the prevention and treatment of depression due to the impact Omega-3 has on the neurotransmitter's serotonin and dopamine.
Omega-3 fatty acids can be found in a variety of marine and plant-based foods depending on your diet preference and budget. Foods such as salmon, anchovies, oysters, shrimp, frozen fish sticks, trout, mussels, seeds and nuts all have a high Omega-3 fatty acid content.
Remember to consult your health care practitioner about the volume or intake of Omega-3 for your unique body and developmental stage.
Hey Happy wants to encourage you to make sure you include Omega-3 fatty acids to your diet so that you can benefit from it's affect on your mood.
Here is a Omega-3 rich recipe for inspiration from bon appetit: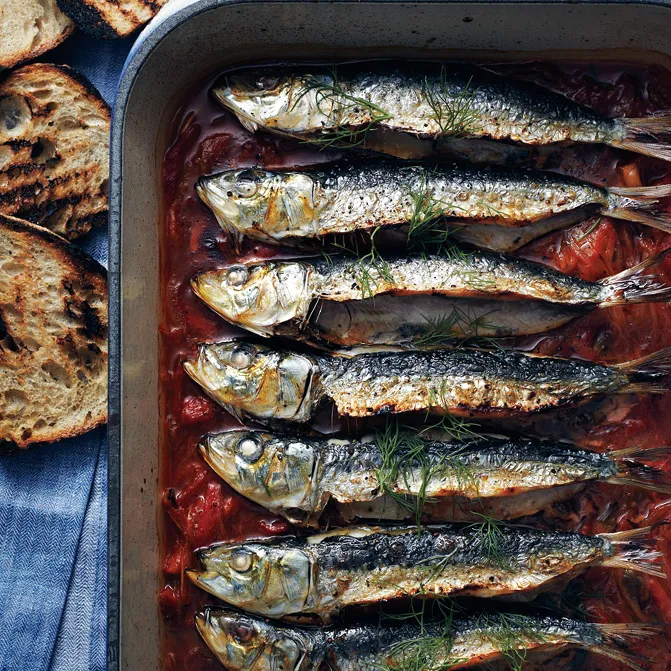 Baked Sardines in Pepperonata
Ingredients (8 servings)
4 red bell peppers
¼ cup olive oil, plus more for drizzling
½ medium red onion, thinly sliced
2 garlic cloves, thinly sliced
Kosher salt and freshly ground black pepper
2 tablespoons tomato paste
1 tablespoon sugar
¼ cup dry white wine
¼ cup white wine vinegar
2 tablespoons chopped fresh flat-leaf parsley
2 tablespoons drained capers
½ teaspoon dried oregano
8 whole fresh sardines, scaled, gutted, deboned
Chopped fresh dill and grilled crusty bread (for serving)
Preparation
Step 1
Preheat broiler. Broil peppers on a broiler-proof rimmed baking sheet, turning occasionally, until blistered all over, 8–10 minutes. Transfer to a medium bowl, cover with plastic wrap, and let sit 15 minutes. Peel, seed, and slice into ¼"-wide strips.
Step 2
Reduce oven temperature to 450°. Heat ¼ cup oil in a large skillet over medium heat. Add onion and garlic; season with salt and pepper and cook, stirring occasionally, until softened, 8–10 minutes. Increase heat to medium-high, add tomato paste and sugar and cook, stirring, until tomato paste is beginning to darken, about 1 minute. Add wine and vinegar and cook, stirring often, until slightly reduced, about 2 minutes. Mix in roasted peppers, parsley, capers, and oregano. Cook, stirring occasionally, until slightly thickened, about 5 minutes. Transfer pepperonata to a shallow 3-qt. baking dish.
Step 3
Season sardines inside and out with salt and pepper; lay on top of pepperonata. Drizzle with oil and bake until sardines are firm and beginning to brown, 15–20 minutes. Top with dill, drizzle with more oil, and serve with bread.
Nutrition Per Serving
Calories (kcal) 120 Fat (g) 9 Saturated Fat (g) 1 Cholesterol (mg) 15 Carbohydrates (g) 6 Dietary Fiber (g) 1 Total Sugars (g) 4 Protein (g) 4 Sodium (mg) 230
Enjoy!
written by Derika de Villiers, clinical psychologist